If you are interested in buying reefer containers, you can choose for new or used reefer containers. A used reefer container is financially more attractive and can be the preferred option for refrigerated storage. Alconet Containers offers new and used reefer containers for sale.
Buying a used reefer container? Take this into account
A refrigerated container is perfect for storing or transporting food products and medicines. Transport agencies, event agencies and the food service industry greatly benefit from reefer containers. Needless to say, buying a reefer container is quite an investment. A used reefer container is often the cheaper alternative for a new container. However, there are a few things to take into account when making your choice.
Certified containers
All reefers which will be used for transportation of goods must be CSC-certified. This is stated in the Container Safety Convention. Not every party can provide you with this certificate. We advise to check whether the used reefer container is certified.
Cooling system and maintenance
Most reefer containers are cooled by air, which is taken care of by the generators on the side of the reefer. When the container is not nearby any power source, as during transport or on a festival site, you will need a genset. There are two types of gensets. A clip-on genset is mounted on the side of the reefer. An underslung genset is mounted under the reefer, onto the trailer.
The functioning of the cooling system is fully checked during a PTI (pre trip inspection). When the system malfunctions this needs to be repaired. Our in-house technicians are capable of maintaining and repairing reefer containers of renowned brands such as Thermoking and Carrier.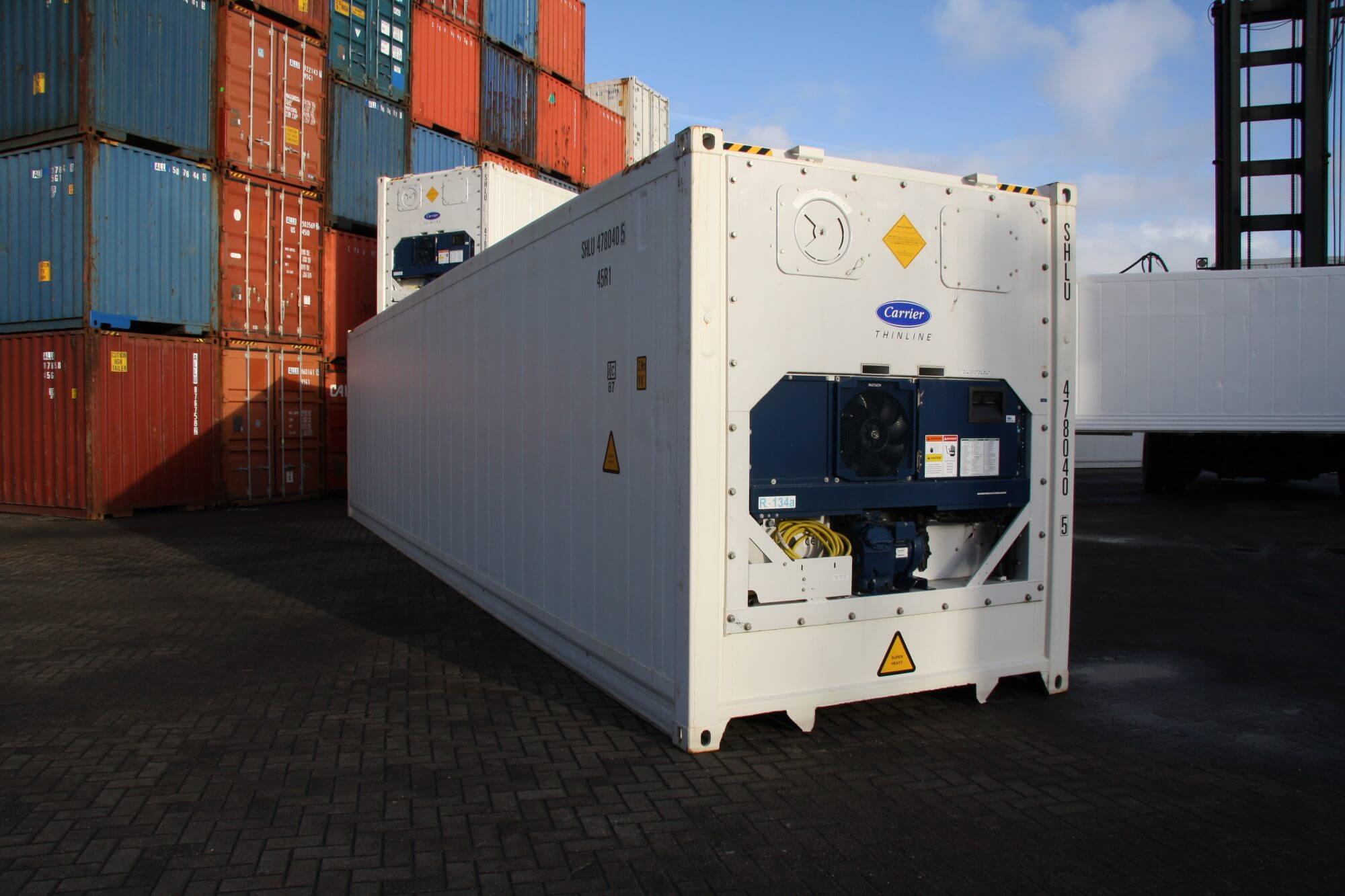 Purpose and sizes
The 10ft reefer container is not only less common, but due to its small size also not suitable for international transport of goods. A 10ft reefer can however solve your (temporary) storage deficiencies. The market for used 20ft and 40ft containers is bigger. These larger reefers can be used for transport and storage. As described above, depending upon the application of the reefer container a genset is needed. Alconet also offers secondhand gensets. Finally, we highly recommend to vet whether the reefer is modified. The reefer container may be customized in such a way that it does not fit your purpose. If it is exactly what you are looking for, go for it!
Used reefer containers for sale
Alconet can offer used reefer containers because large transport agencies depreciate their containers over time, and eventually switch to new reefers. At that point we can buy these reefers and offer them to the market. Our offer includes 20ft and 40ft containers. It is possible to buy used reefers or to rent them. When you have specific wishes such as extra doors, lighting or branding, then we can customize the reefer container. Have a look at our offer reefer containers and ask for a quote.