Cargo containers are used more and more all around the world, for many different applications. Cargo containers are used for international cargo and as a way of enlarging one's storage capacity. Used cargo containers can be the most attractive option for you, too.
Advantages of used cargo containers
When you are interested in buying cargo containers you can choose between new and used containers. Alconet offers both, but used cargo containers have some advantages over new containers. Most importantly, used cargo containers are more affordable than new containers. We are able to buy cargo containers from trading agencies in bulk amounts. Moreover, the short-term availability is another advantage. The used sea containers are often bought directly from shipping agencies, meaning they are stored at depots around the world. Depending on what sort of container you need, they are almost always in stock and can be shipped within a moments notice.
As the cargo containers enter our depot, they are checked and repaired. We also ensure that containers which will be used for transport get the CSC-certificate. Finally, when the buyer requests specific container modifications, our mechanics take care of it on-site.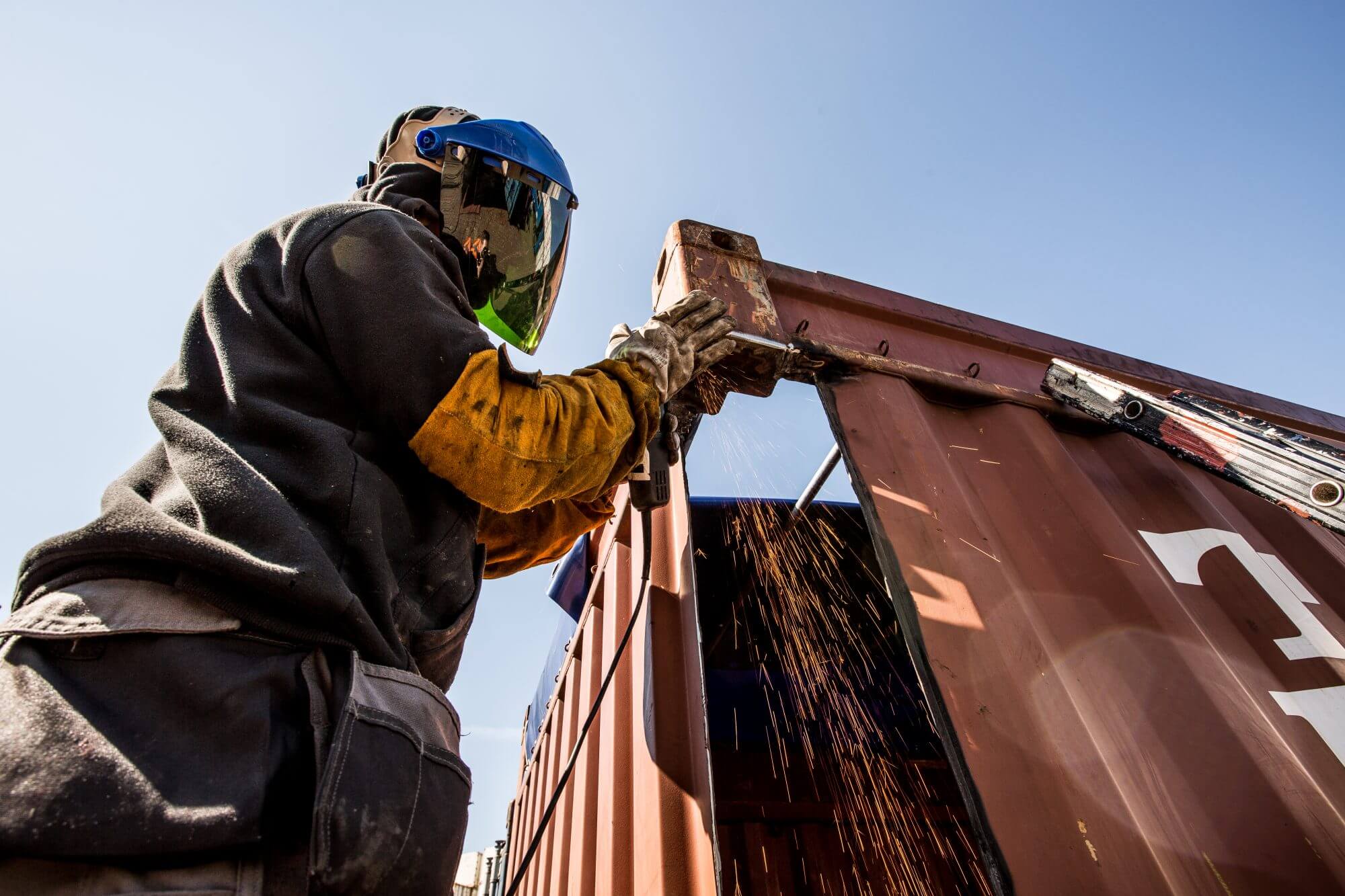 Used cargo containers: what to take into account?
A used cargo container can be interesting when a new container is too expensive. There are a couple of aspects you need to keep in mind when you want to buy a secondhand cargo container.
1. CSC-certification
The most important aspect you have to take into account is the CSC-certificate. This license indicates that the container is still qualified for international transport. Since september 1977 there is a safety law, the Container Safety Convention, which aims for safe transport and uniform legislation worldwide. Not every organisation can certify a freight container and provide it with a CSC-certificate, so take this into account when buying a container. A secondhand cargo container can still be suitable for transport and it can obtain the certificate. A disapproved container with the BER-status is not suitable for transport anymore. All new and used containers that we offer are certified and have the CSC-certificate!
2. Damages
A certified cargo container is very likely to be free of damages. In spite of this, it is always a good thing to inspect the container when you have the possibility to do so. For example, do all doors close well? Or is it really free of excess corrosion or rust? A visual inspection gives you the assurance whether a container is suitable for transport or storage!
3. Modifications
Some clients have unique needs for their containers and therefore containers can be modified. Alconet also performs modifications such as installing additional entry ways, airing possibilities, electricity or lighting. Naturally, this does not always have to be a bad thing, as long as it fits your needs. Sometimes you would rather buy a standard, used cargo container. Therefore, always ask whether the container has undergone any specific modifications to be sure you buy what you want to buy.
4. Services
When lower costs are your main motivation of buying secondhand cargo containers, also check the additional costs of services. In example, if you buy a cargo container, how will it arrive at your location? Do you have to pay an additional fee? Always verify the delivery possibilities. Alconet has a tight network in the transport industry and therefore we can deliver secondhand cargo containers at your location. Another crucial point is container service. Especially reefer containers need frequent servicing (check-ups and maintenance). To conclude: take into account any additional costs for maintenance.
Used sea container sale and worldwide delivery
Especially smaller companies may be better off buying used sea containers. Also when you need a container for personal use, a secondhand cargo container may be most attractive. Alconet offers various types of secondhand cargo containers. The containers are divided into A and B-quality. A-quality containers are new or wholly renovated and are thus comparable to new cargo containers. B-quality containers are used sea containers which are still CSC certified, and can therefore directly be used for transport or storage.
Buy used cargo containers
Are you interested in buying used cargo containers? Request your quote online! Please fill out the form as completely as possible and also indicate whether modifications and transport of your secondhand cargo container is necessary. Accordingly, we will provide you with a tailored price indication within 2 working days.
Request a quote - Shipping Container