What is a reefer container?
Reefer container is short for refrigerated container. A reefer container is a type of shipping container that remains its cargo cool. Reefers are therefore used for transporting food like fruit, meat, fish, vegetables and dairy and non-food products like flowers and pharmaceuticals.
By definition, a reefer container is a shipping container which is equipped with a generator which cools the content of the container. The cooling gets done during shipping as well as in storage. Carrier, Thermoking and Daikin reefers are the most popular brands of reefers. The reefer container is essential for worldwide trade and besides that, refrigerated containers are often used for cool storage of food and beverages at events and festivals.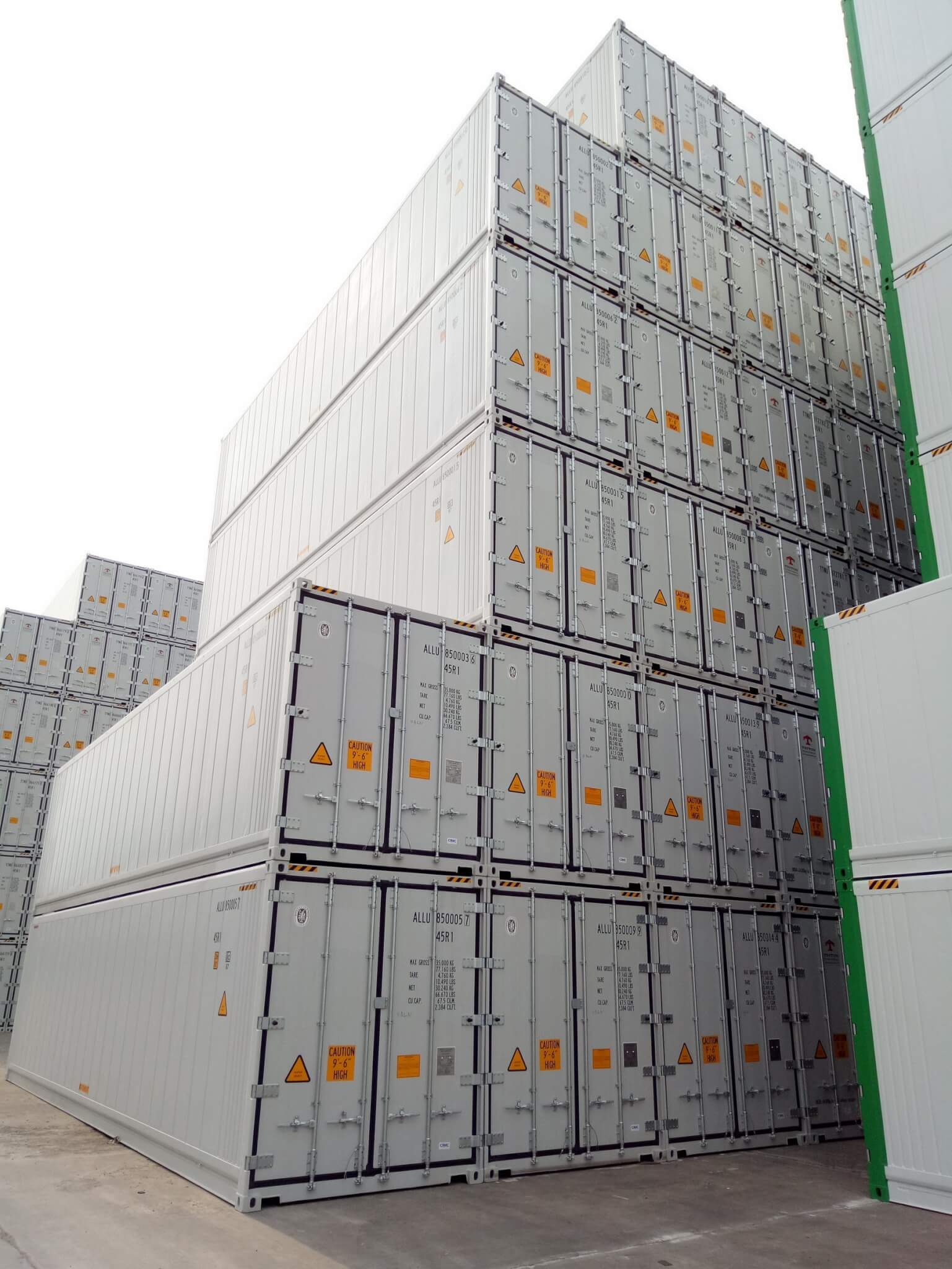 How does a reefer container work?
Now that you know what a reefer container is, we continue to explain how a reefer works. The cooling of a reefer is done by air. The generator, placed on one side of the container, blows air into the container. In most cases the air is blown in through the floor or side of the container. The floor of a reefer container is usually a T-style floor, which means the air can flow through the floor and cool the cargo from the bottom up. After loading, the generator can be set to the right temperature and the container will take care of itself from there on. The internal temperature can be maintained, even if the outside temperature suddenly increases or decreases. While a reefer shipping container is excellent at maintaining the temperature of its content, it is important to remember that a reefer cannot be used to reach the desired temperature. In other words: the cargo of a reefer container has to be brought to the desired temperature prior to loading.
In addition to cooling by air, some reefers are provided with a cooling system that uses water to cool the cargo. When a reefer container is stored below deck on a cargo vessel, or sometimes even when multiple containers are stacked together in a tight space, the water cooling system is used to ventilate the generated heat outside of the container and even the space it's being stored. However, because of the high price of a water cooling system, these type of reefer containers are declining in popularity.
A refrigerated container can also be equipped with a genset, which is short for generator set. This genset can be installed as a clip-on genset, which means the genset is mounted on the side of the container and can be more easily removed after delivery or storage. The genset can also be mounted as an underslung generator set, this is when the genset is hung (or mounted) under the container. This is mostly used for trailer transportation, where the genset is mounted on the trailer. This way, only the container has to be swapped and not the whole trailer.
Can a reefer container be modified?
Standard reefer containers are produced by brands liked Carrier and Thermoking. Due to high demand for custom reefer containers, Alconet has specialized itself in modifying reefer container to the customer's unique needs. For instance, we can customize reefer container with extra doors, windows, lighting, storage racks or insulation. Additionally, we can also alter the appearance of a container by painting it to virtually every color or applying a brand logo. You can view our current offer of reefer containers, or contact us directly.
Looking to buy or rent a reefer?
If you are looking to buy or rent a refrigerated container for transport or storage, view our complete offer of used and new reefers. Also our gensets are to be found online. Request a quote and you will receive a personal quotation in just two working days. We can ship every container to your desired location!